Everyday communication practice for children with autism.
Your child must learn that there is power in communication – that it is worthwhile to communicate, and that it can be fun! You must teach this intentionally and directly because typically, children with ASD do not automatically or easily engage in communication, and even if they speak (or type), they still do not initiate communication. Verbal skills often develop separately from communication skills. You will teach these important concepts by showing children that communication is an action; a "back-and-forth" action – a powerful action. They need to learn that they CAN make things happen, and HOW to make things happen!
Remember that visual learners learn most quickly and easily when teachers and parents use visual teaching strategies. So the key for teachers and parents is to teach in a way that their children can literally SEE reciprocity; the "back-and-forth" of communication.
You can use these ideas for children who are not speaking, as well as with those who are beginning to speak. Years after I developed these ideas in my classroom back in the 1980's, research by Andy Bondy showed that the use of visual strategies (pictures, objects) to teach communication to non-speaking children actually enhance the development of speech and language. You do not have to worry that you will slow down your child's development if you use objects and/or pictures to help your child communicate. It will only help!
GOOD NEWS: YOU DO NOT HAVE TO PURCHASE ANY SPECIAL PROGRAM OR MATERIALS IN ORDER TO TEACH YOUR CHILD HOW TO COMMUNICATE.
HOW TO DO IT: Here are the steps to follow, at home or at school. I will describe each one in detail.
Transition Objects

Expressive Communication

Making Choices

Building a Communication System

Introducing Pictures

*Begin with Transition Objects. Transition objects are items that are associated with each activity and/or location that make up your child's day. Use transition objects when directing your child from one activity to another. You will use the same transition object, consistently, for its activity whenever the child is supposed to go there or engage in the particular activity. Use those objects which make the most sense from your child's point of view. What might he understand most easily? What object would he most easily associate with the activity? Examples of possible objects are…
CUP = snack time
WASHCLOTH = bath time
BALL = play outside on the playground
FAVORITE TOY= time to go to the play area in the classroom
SPOON = lunchtime
SUNGLASSES = take a walk outside
BOOK = reading time
DVD CASE = watch video
SPECIFIC TOY FOR CAR (always same toy) = ride in the car
SPECIFIC TOY FOR BUS (toy for bus) = time to get on the bus
PHOTO OF GRANDMA = going to Grandma's house
(or) BEADED NECKLACE = Grandma's house (Give it to Grandma when he sees her.)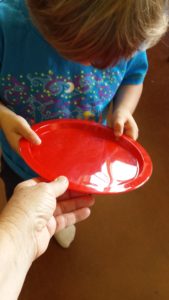 SOAP CONTAINER OR TOWEL = wash hands
BACKPACK = go to school
DIAPER = time to go to the bathroom
SOAP DISPENSER = time to go to the bathroom (if not in diapers)
HEADPHONES = listen to music
CARPET SQUARE (to sit on) = group time in school
PEG (from pegboard) = work with teacher (or therapist or parent)
LABELS FROM FOOD BOXES can be used to help children make a choice of what they want to eat (cheese crackers, cookies, raisins, etc)
When directing children to an activity, hand them the appropriate transition object. At the same time, use a simple verbal direction in one or two words. Always use the same object and same words for each particular activity. For example, when you want him to go to the bathroom to take a bath, give him the WASHCLOTH and say, "Bath time", as you lead him directly and immediately to the bathtub. After the bath is finished, give him the object that will direct him to the next activity. For example, if the next activity is to watch a video, give him the DVD case, saying, "Time for video", and take him to the tablet or screen.
Be consistent. Use transition objects consistently for each transition in your child's day. It is extremely helpful to keep the objects in a basket at a central location, so that everyone––teachers and assistants; or at home, parents and siblings–– can find the objects when they are needed.
By using transition objects, you are helping him connect the words he hears to their useful and functional meaning. You are building receptive language skills; strengthening his comprehension. You are also creating the foundation for a concrete, easily understood, communication system. Even if he is not talking effectively yet, you will give him a way to communicate his wants and needs––this will be explained in the next steps. The more consistent you are using transition objects for every transition, the more quickly he will learn. Add objects for more new situations and activities as needed. Photographs of people can also be used if he understands who is pictured in photographs. For example, show him a photograph of his grandmother while you say "Let's go see Grandma" when it is time to go.
*Teach expressive communication­, "I want…" After you have been using transition objects consistently, teach your child to hand you the objects associated with activities or locations (the transition objects) to ask you for something specific. This is called expressive communication.
During a firmly established routine of the day, for example if he enjoys bath time and it always comes after dinner, instead of giving him the transition object (WASHCLOTH), simply put it on the table and prompt him to hand it to you. The idea is to teach him to bring you the washcloth to tell you that he wants to take a bath. If necessary, you can physically prompt him to hand you the object; then immediately go for the bath. Add this to the routine, always making the WASHCLOTH available at the right times, and help him hand you the object. With practice, your child will learn to "ask" for bath time (or other activity you have used to teach this skill) on his own, using the object.
When your child can hand you a particular object and receive what he is asking for, he is learning that not only do objects mean certain things (SPOON means "I go to the table to eat") but that he can use the object to express his desires to another person. Therefore the act of handing an adult the SPOON means, "I want to eat". Giving the WASHCLOTH to Mommy means "I want to take a bath". In this way, he will really begin to understand the POWER of COMMUNICATION.
*Making choices comes next. After transition objects have become integrated into your child's daily routine, AND you observe that he independently goes to the activities after you give him the objects, AND he intentionally asks you for things by handing you the appropriate object, you can assess his readiness to use the objects to indicate his preferred activity from several options­­–to make a choice.
Give your child a choice of two activities by holding two different transition objects in front of him, say "What do you want to do?" and see if he chooses one and goes to the appropriate place to begin the activity. One way to find out if he is really making a choice, is to give him a choice of a favored activity (SPOON for "I want something to eat") and something he doesn't particularly like (SOAP CONTAINER for "wash hands"). If your child chooses what he or she doesn't really want, give it to him or her anyway, quickly. Then offer the same two choices again, physically prompting him to pick the preferred activity if he doesn't automatically choose on his own.
The same procedure can be used at snack time, at the table. Using large labels/pictures that you have cut directy from the food boxes she is familiar with, have your child choose between two labels. Offer one that is her favorite snack, the other choice a food she routinely refuses to eat. Remember, if she picks the label of the food she doesn't like, you should immediately give it to her. If she is ready to learn this skill, she will master it best by you being "quick and consistent" with your responses. Then help her choose the label of her favorite food to give to you. If the labels may be unclear or confusing, you can put a small sample of the food in its own baggie (taped closed) and use these baggies to indicate the choices, just like you would use the labels.
*Now you can "build" a communication system. You will continue to help your child use objects to independently and spontaneously to communicate his wants and needs. Once he understands the meaning of the objects, has used them independently to express his wants, and make choices from two offerings, you can create a communication basket or communication board. The goal is for him to bring you the object which indicates what he wants to do (or eat) from several choices or possible options.
In setting up an this type of communication system, it is important that your child…
(1) has easy access to a basket of objects which represent the choices available at a given time (or a board with objects Velcroed on to it),
(2) takes the object which is associated with his desired activity, and
(3) brings this object to you,
(4) after which you make sure that he immediately receives what he has asked for.
For example, if your child wants to listen to music, he would look through his communication basket, find the HEADPHONES and bring them to you. He is telling you "I want to listen to music". You immediately say "OK, listen to music!" or if he is beginning to imitate spoken language, you would model by saying "I want music," to encourage him to repeat the proper phrase. Whether he repeats it or not, immediately take him to get the music started. In this way you will positively reinforce his communicative action.
While he is learning about communication, it is important to reinforce his attempts no matter what! This means that if he asks you for something, you need to give it to him. If there are things that you definitely do not want him to have at certain time, remove those particular objects so that they are not an option. But remember that if teaching the basics of communication is a priority for your child right now, you must make sure that there are options available that he really wants!
*You may want to assess her readiness to use pictures instead of objects. If your child shows an interest in photographs or pictures, you can substitute using photos or pictures for the transition objects (one object at a time). It is recommended that you do this gradually, substituting one at a time, making sure that he is able to use the picture as effectively as the object before adding more pictures. You will use the picture the same way as you used transition objects. Think of them as "transition pictures".
For some children, an easily recognizable, good, clear photograph, might be better than a black-and-white drawing. For others, a black-and-white drawing is most effective. The key is to use the types of visual cue that make the most sense to your child. The only way to know which to use is to assess – try it and observe.
Examples of the types of visual cues are:
Objects your child actually will use in the activity (PAINT BRUSH for painting time, BALL for going to the gym, COAT for going outside, DIAPER for bathroom, LUNCH BOX for lunch time, etc.)
Objects that simply represent the activity (VIDEOTAPE CASE for music time, PEG for working with teacher, etc.)
Product Labels from food boxes, toy boxes, or advertisements (restaurants, Wal-Mart, etc…) These are usually great ways to move from objects (3-D) to pictures (2-D). These would be used to indicate a specific toy or game, or food to choose at snack time.
Photographs (Make sure they are clear and uncluttered. Too many unnecessary details might confuse. Make sure the photo depicts exactly, literally, concretely, what is it meant to represent.)
Pictures – Black-and-white drawings, colored drawings or more symbolic picture symbols. Often symbolic picture symbols are confusing. Realistic pictures usually are best.
REVIEW OF IMPORTANT POINTS
Start by using transition objects for each activity in your child's day.
Always use the same objects for the same activities. Be consistent.
Keep your words clear, simple and precise, as you hand him the object.
Go immediately to the place or begin the activity right away.
Teach her to hand you the object to ask for something specific in an already established routine.
After consistently using transition objects, AND after she has learned to hand you ONE object at a time to express her wants, give her the opportunity to indicate her preference by handing you an object from a choice between two things. Assess this skill periodically. Move on to the next step only after she has mastered this step. The next step could be to increase vocabulary (by adding one more choice/object at a time until mastered) OR a next step could be to teach him to use the mastered communication skill with another person, instead of you. This is how you will help him generalize his skills.
Eventually, create a communication basket or communication board. This is a long term goal; make sure you give her plenty of time to understand the use of objects and to practice asking for what she wants with objects, before utilizing a communication basket or board. Too many visuals at the same time can be confusing and work against her learning what you are teaching. Take your time. Go step by step.
If your child is interested in photographs or pictures, you can (one at a time, not all at once) substitute photos or pictures for the objects.
Use what is most easily understood by your child…let it be EASY and FUN for him or her! In this way, he or she will be willing to communicate more often, and discover the power of communication.
© Catherine Faherty 1990-2017