You can read unsolicited reviews and get special sales information on Amazon.com, or by visiting the publisher's website, Future Horizons, Inc Besides English, Catherine Faherty's books are available in eleven additional languages: Danish, Finnish, French, German, Greek, Japanese, Polish, Portuguese, Spanish, Swedish, and Norwegian.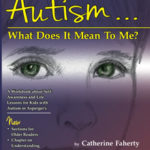 Contains information for older readers, expanded content, and a new chapter on happiness. Available through the publisher: Future Horizons, on Amazon, or by request at your favorite independent bookstore.
Book review by Ray Hemachandra, blogger, neurodiversity advocate, father of autistic teenager:
Autism…What Does It Mean to Me? is an indispensable and transformative tool and lifelong companion for autistic people, their parents and families, and professionals. Written by internationally renowned autism trainer, teacher, and advocate and best-selling author Catherine Faherty, the workbook is engaged by the autistic child or adult to enhance self-understanding and awareness and foster communication with others about needs, preferences, and identity. Most every facet of a person's life is explored — areas particular to autism and areas every person engages — among them: ways of thinking, including focused interests, perfection versus doing your best, and the support of schedules; sensory experience, including stimming; creative expression; learning about and interacting with people; writing Social Stories; understanding speech and expressions in others; types of communication, including verbal or nonverbal, self-advocacy, and miscommunication; supportive structures for school and approaching IEPs; friendship, play, and online acquaintances and safety; and emotions, including feeling anxious or upset, depression, and outbursts. The book concludes with an extended section on happiness, including relaxation, exercise, gratitude, forgiveness, kindness, positive attitude, and making the world a better place.
Extensive materials designed especially for older readers, as well as for parents, therapists, and teachers, are included. Understanding what's actually true and supporting acceptance and appreciation form the cornerstones of Catherine's approach and the workbook. This new book is completely updated and revised from the original edition with the "Asperger's" title. It adds more than 150 pages of brand-new material and worksheets.
Book review by Gbollard
"It's a stunning piece of work covering a vast array of topics ranging from innermost feelings, sensitivity and creativity, to friends, family, school, and general emotional well-being. Each chapter is clearly marked and starts with an introduction to the topic before it segues into a plethora of questions. After the questions, there is specific advice for parents on the various responses and on the topic in general. New to this second edition are sections directed at older children, teens, and adults, which cover some crucial topics such as participating in the IEP, personal safety, and depression. This isn't a book that you will simply read and leave on the shelf, it's a book that will become the type of journal that you and your child will want to carry and refer to for years to come. Some parts of the book will be more suitable for younger children while others are more suitable for older ones. It's probable that over time, you'll want to revisit your child's answers to questions to determine if things have changed. This is most definitely a book that you should take with you when you visit the therapists or practitioners who are looking after your child.
The questions in this book are cleverly posed to make it easier for your child to respond. While there is certainly space for long answers, most of the questions can be answered simply by highlighting the most appropriate multiple-choice answers. This makes the book much more approachable to even the most writing adverse children.
Throughout the book there are examples drawn from research, from real life, and from autism advocates. In fact, I was stunned and impressed by the extent to which these advocates have been included. It's something that is sorely missing from most books of this type. Many of the illustrations are done by individuals on the autism spectrum and there are pull-out quotes from people on the spectrum of all ages scattered throughout.
I wholeheartedly recommend this book to all families with children on the autism spectrum, particularly those with younger children (from about five years of age) who will be able to get the most out of the entire book. This is also a great book for practitioners in autism and special needs related fields as it contains many great mini questionnaires designed to find out how children on the spectrum really feel – and of course, it's full of useful information about how to respond.
Book review by Carolyn Ogburn, University of North Carolina, Director of Accessibility Services:
Autism…What Does It Mean To Me? by Catherine Faherty has come to be even more groundbreaking than it did in its first edition, 14 years ago. The format Catherine developed, in which the book is literally co-created by the autistic child (or adult), is still the only one of its kind. It's not because there aren't autism books galore. People purchase books like Catherine's alongside books written by PhDs, researchers and scholars; memoirs written by parents of young children; and, increasingly, autobiographies written by autistic adults. Each of these books has something to teach its reader about autism. But only Catherine's is a collaboration with the child him- or herself. Autism…What Does It Mean To Me? is both a book and a collection of worksheets, each page of which offers the chance to explore a particular topic. Like the first edition, each chapter includes both worksheets for the child (or adult) with autism, as well as pages of explanatory material and ideas for further study for the teacher, parent, or professional.
New pages include additional information directed towards older readers. For example, teens exploring how their identity relates to their diagnosis may be interested in the pages titled: The Wording for Me and Autism: "Identity First" and "Person First" (p. 20, 21). Pages 28-29 offer additional resources to the parent or professional regarding this language. Pages regarding the importance and meaning of stimming are new, along with pages regarding Self-Injurious Behavior, tics, emotional pain, empathy, and many, many more. In the section regarding Friends, Catherine includes what she's learned from adults and teens regarding the importance of internet friendships as a vital and sustaining force in many otherwise isolated lives. She's also added new information regarding the dangers that may be associated with meeting people online, and practical tips regarding protecting one's personal safety.
The new edition also includes two brand new elements. Happiness: An entirely new chapter dedicated to the pursuit of happiness, based in Catherine's study of positive psychology researchers and integrating this research into her professional practice. This chapter provides practical, concrete language and suggestions regarding such topics as: Forgiveness, Appreciation and Gratitude, Acceptance, Courage, Kindness. Its inclusion is a stinging reminder of how rarely we read about these qualities in the standard autism curriculum. New practitioners are drilled in behavioral treatment strategies, but too often happiness is considered too elusive a goal. We learn to strive only for elimination of undesirable behaviors, forgetting that, like everyone, a person with autism must learn to be happy: with themselves, in their life.
New artwork: The artwork of Jade McWilliams does more than offer an illustration to each chapter. Her artwork takes Catherine's ideas and transforms them into pictures accessible to anyone, regardless of their ability with written language. Much of the original artwork by Maria White and Thomas Johnson remains, along with the comments, observations, and insights by Dave Spicer and John Engle; but Jade's artwork adds a new dimension to this edition.
Asperger's…What Does It Mean to Me? (The original 2000 edition. Over 45,000 copies have been sold. It has been updated and expanded, and published in 2014, under the title of Autism…What Does It Mean To Me?) The Spanish edition is still available!
This original workbook explaining autism was groundbreaking! Its 2nd edition is titled Autism…What Does It Mean To Me? Both books feature a wealth of structured teaching and provide workbook pages for verbal/reading children or youth to help build self-knowledge, self-understanding, and self-esteem. It serves as an essential introduction and self-advocacy support by providing an in-depth personal resource for others (family members, teachers, friends, and therapists) to better understand their child or student. The first half of each chapter contains workbook pages for the child or youth, and the other half contains practical help for parents, teachers, and therapists. Over 50,000 copies have been sold of this original 2000 edition. It has been updated and expanded, and published in 2014, under the title of Autism…What Does It Mean To Me? Copies at an excellent bargain price are available of this original, still very relevant first edition from the publisher Future Horizons, fhautism.com.
Parents write about Asperger's…What Does It Mean To Me?

"I bought two of these – my son and I spent several months doing the workbook together and I gave the other one to his school. Whenever anyone asks what Asperger book they should get, this is at the top of my list."

"We decided to wait until she was 9 to share her diagnosis with her. We used this workbook to explain to her about Asperger's and she loves completing the worksheets and really seems to understand it very well. She was so excited about the book that she took it to school and showed it to her teacher who also thought it is a great workbook and the school is considering purchasing copies for other students. I would highly recommend this workbook for any child with Asperger's or autism, and for parents to share it with their child. I think it would be most appropriate for children ages 8-13 but could be used for older children as a form of self-exploration."


Catherine Faherty writes that "miscommunication and misunderstanding can result from a mismatched style of communicating." Life – and relationships – can be frustrating for individuals for whom communication in the commonly expected ways is sometimes inaccessible. In this book, Catherine Faherty suggests a unique, user-friendly "Contract for Communication" featuring easy-to-follow agreements for both people on the spectrum and their communication partners—parents, friends, teachers, therapists—so they can better understand one another!
The Contract for Communication includes five agreements for each communication partner. The first set of agreements is for the non-autistic communication partner and the second set of agreements is for the autistic communication partner. Each of these two groups of communicators has its own general characteristics, assumptions, and quirks, which is why it is necessary to have a unique set of agreements for each group.
By following Catherine Faherty's straightforward guidelines, and using the provided agreements, both children and adults can keep miscommunication and misunderstandings to a minimum. In addition to being useful for adult-child relationships, this book is also great for just adults: friends, spouses, coworkers, and more!
More Information by Catherine Faherty about the concepts contained in this book:
Catherine Faherty asks us to think of ourselves as "communication partners." She promotes a subtle but essential fact that the autistic style of communicating is different from – not inferior nor superior to – the widespread, more familiar communication style that most non-autistic teachers, therapists, parents, co-workers, peers, and neighbors expect. Catherine proposes that we make "new agreements" about how to communicate; and consequently, how to interact in a more respectful and authentic manner for all involved. She suggests using a simple "contract for communication" …. Learn more…
Awarded the 2009 Autism Society of America Outstanding Literary Work of the Year!
A NAPPA Honors Winner in the 2009 National Parenting Publications Awards!
Honorable Mention in the 2008 ForeWord Book of the Year Awards!
Trish's review: "This is an impressive book, both in its scope and its presentation of sensitive topics in a clear and direct manner. Even if you are not ready to delve into all the topics in the book, just the first couple of chapters are great for teaching an individual how to tell if they might be sick or injured and why it is important to communicate with a trusted person about what is going on in your body. There is also a fantastic chapter about communication that can apply to many situations outside of the scenarios involving illness or death."
"There really is so much in this book that is about how we live as much as about how we die….a fantastic resource for anyone wanting to discuss these topics with someone with an autism spectrum disorder. The book is written mostly in question-and-answer format, with Communication Forms after each topic" Read more…
About the illustrations
Thomas Johnson's stunning pen and ink full-page drawings are compelling features in Understanding Death and Illness and What They Teach About Life with the cover design taken from one of his illustrations. Readers have told me that when they first see Thomas Johnson's drawings, they are taken in immediately by the depth of spirit and sensitivity, as I was when Thomas first presented them to me. Here is a sampling of four of the illustrations.
Sixteen more of Thomas's pen and ink full-page pieces are featured in the book "Understanding Death and Illness and What They Teach About Life."
Autism in My Family
Foreword to the book by Catherine Faherty. I am pleased to introduce this book, Autism in My Family to siblings of children with autism, their families, therapists, and the autism community at large. Back in the fall of 2014 I received an email message from Sandra Tucker telling me about her idea to create a book for families to accompany my books, Aspergers…What Does It Mean To Me? (Future Horizons, 2000) and it's update, Autism…What Does It Mean To Me? (Future Horizons, 2014). Sandra explained that this new book would be patterned after my books for children with ASD, but it would be focused on their brothers and sisters. Initially, I was impressed with the fact that she wrote to me (we did not know each other); and was intrigued by her proposal. After hearing more about her ideas and experience, I was positively thrilled. Read More…
I learned that Sandra founded and directs the organization, Sibling Tree, engaging siblings of all ages in understanding themselves related to their unique perspective and position in their families. Sandra herself, grew up with two brothers – one of whom is on the autism spectrum. Her passion is to empower children, helping them communicate within their family structure about their own experiences, thoughts, feelings, and ideas; to allow their natural resilience to blossom; and to give them the confidence and the tools to become effective advocates for their siblings on the autism spectrum. Along the way, these children discover that they are not alone – that in fact they are a part of a growing movement of siblings across the country and across the world.
Following the same twelve chapters found in my books, the topics range from School, Understanding, People, Feeling Upset, Happiness, and more. Keeping my workbook idea, the young readers of this new book are encouraged to independently fill in some pages, while other pages are meant for the child and parent to explore together. In addition, I was delighted to hear her proposal for a brand-new feature. Siblings are invited to join, share, and learn along with other siblings across the country and the world, safely on-line. This optional opportunity is a wonderful support for girls and boys interested in expanding their world in a safe way – a world in which they may too often feel alone.
Sandra's compassion and empathy for typical and autistic siblings and their families is impressive and humbling. I am thrilled that Sandra has created such empathetic support in this book for her fellow siblings. If you are a parent, you have in your hands a wonderful guide to help you support your typical daughters and sons as they grow. Therapists will appreciate this tool to add to therapy sessions. And I imagine that as siblings grow and mature, they will come to accept, embrace, and treasure the personal exploration available to them through this wonderful book. I invite you look through these pages to experience Sandra Tucker's passion, focus, and commitment to this unique and potential group – your typically-developing children. They may become powerful agents of change for the larger society's acceptance and celebration of diversity.