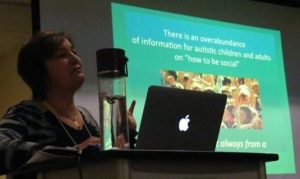 Speaking and Training Schedule
Catherine Faherty has been creating autism teacher training models, workshops, seminars, and speaking at conferences since the 1980's. Here you will find a sampling of recent speaking engagements, presentations, and professional training from 2017-2019 under "Previous Events". For newly scheduled presentations, search "Upcoming Events".
Text from photo on left: There is an overabundance of information for autistic children and adults on "how to be social"…and it's always from a non-autistic perspective.
The Transformative Power of Autistic Self-Knowledge and Self-Advocacy: Speaking Your Truth
Catherine Faherty and co-presenter, Jade McWilliams, Artist, Activist, and Autistic Advocate, offer a day-long seminar for autistic and non-autistic families, teachers, therapists, and allies. This seminar covers the essentials of how to foster authentic self-knowledge and teach self-advocacy, through compassionate and positive self-understanding. Practical strategies and examples will be presented, as well as personal experiences.
When autistic children are raised without self-knowledge, and without a daily practice of autism-friendly ways of communicating and asking for help, they may be more susceptible to bullying, physical, and emotional harm throughout their lives, even through adulthood. The consequences of not learning to "speak your truth" with confidence – and to first know what your truth is – is most possible with a strong foundation of personal awareness, accessible communication methods, authentic choice, and mutual respect in the person's environment. Trigger warning: Emotional, physical, cognitive, and sexual abuse will be mentioned.
This day-long seminar is being offered by the presenters as a fundraiser for Camp Lakey Gap. Registration will be very affordable and child care is being planned. Registration information will be forthcoming this spring on Camp Lakey Gap website, camplakeygap.org.
Catherine Faherty has been creating autism teacher training models and speaking at conferences since the 1980's.  To inquire about these topics; or to find out if she can speak about another topic, contact: catherine@catherinefaherty.com.