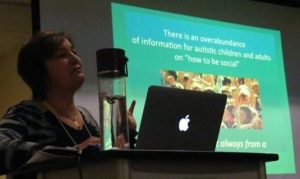 Speaking and Training Schedule
Catherine Faherty has been creating autism teacher training models, workshops, seminars, and speaking at conferences since the 1980's. Here you will find a sampling of recent speaking engagements, presentations, and professional training from 2017-2019 under "Previous Events". For newly scheduled presentations, search "Upcoming Events".
Text from photo on left: There is an overabundance of information for autistic children and adults on "how to be social"…and it's always from a non-autistic perspective.
The Transformative Power of Autistic Self-Knowledge and Self-Advocacy: Speaking Your Truth (Boone, NC)
September 21, 2018 in Boone, North Carolina. Catherine Faherty and co-presenter Jade McWilliams, Artist, Activist, and Autistic Advocate, provide a full-day seminar for teachers, therapists, and other professionals who work on behalf of children and adults on the autism spectrum; autistic adults, friends and allies, parents and family members. This day-long seminar covers the essentials of how to foster authentic self-knowledge and self-advocacy, including when to talk with your child about autism, and how to nurture self-understanding in open and positive ways. Practical, accessible strategies to teach self-advocacy skills will be presented.
When autistic children are raised without self-knowledge and without a daily practice of autism-friendly ways of communicating and asking for help, they may be more susceptible to physical and emotional harm. The consequences of not including these important goals in an authentic manner in a student's educational program will be discussed in an honest, straightforward, and compassionate manner. Learning to "speak your truth" with confidence – and to first know what your truth is – is most possible with a strong foundation of personal awareness, accessible communication, authentic choice, and mutual respect in the environment. Trigger warning: Emotional, cognitive, physical, and sexual abuse will be mentioned.
This very affordable full-day presentation ($20 for professionals, $10 for students, families, and individuals on the autism spectrum) is being organized by the Hub for Autism and Neurodiversity (HANd) and is partially funded by the NCDD (North Carolina Council for Developmental Disabilities). Contact Elizabeth Kerley ([email protected]) or 828-264-4995 ext. 3114 for more information.
Catherine Faherty has been creating autism teacher training models and speaking at conferences since the 1980's.  To inquire about these topics; or to find out if she can speak about another topic, contact: [email protected].